<![if !vml]>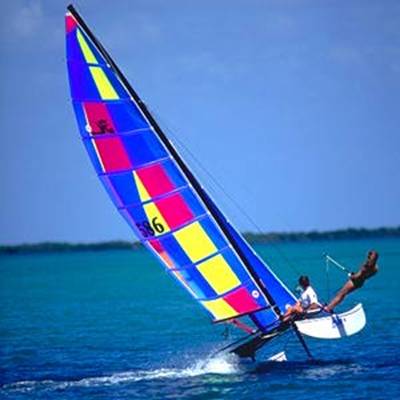 <![endif]>
Frequently Asked Questions
What is a Hobie?

Hobie is short for a Hobie Cat catamaran sailboat.

A catamaran has two hulls for stability.

A hull is that thing that sits in the water and floats. (Remember the saying; two hulls are better than one.)

Hobie Alter started the Hobie Cat company in

California

in the late 1960's by making a simple, easy to sail, easy to tow, single handed, 14' catamaran sailboat with lots of power, that can be easily sailed up onto a beach.

Some of the fastest sailboats are catamarans.
Where do you sit

?

You sit (crawl, stand, lay, kneel, roll, slide, and move around) on the trampoline that is stretched between the two hulls.

In good wind, you can wear a harness and hook up to a trapeze wire (connected up above on the mast) and "stand" and lean out the side of the boat.

This is especially fun when you can "Fly a

Hull

" and get one hull up out of the water.

The mast is that big stick that holds the sails.
Where can you sail in central

Iowa

?

In

Iowa

, if you eliminate the corn and soybean fields, cities and small villages, interstates (connecting IL to NE and MN to MO) and gravel roads connecting everyone else;

you are basically left with several nice lakes and many farm ponds.

Saylorville Lake is where Fleet 84 typically sails.

It is a US Army Corps of Engineers reservoir on the

Des Moines River

and is used primarily for flood control, is well maintained and open to recreation.

There is also Big Creek, which is a smaller lake just north of Saylorville.

Many members of the Fleet also travel to the surrounding sailing events held by other fleets on lakes near

Storm

Lake

,

Clear

Lake

,

Spirit

Lake

, Yankton SD,

Lincoln

NE

, and

Minneapolis

MN

.
Does

Iowa

have any wind?

Iowa

has decent wind; it ranks in the top 10 states for the amount of wind energy available.

The best wind is in the northwestern quarter of the state.

Iowa

tends to have shifting winds that periodically and almost predictably (hint) shift back and forth.

This makes sailing different than on a coast where the wind direction is more constant (but the ocean swells are much bigger.).

The best wind is in the spring and fall, although fronts can kick up great winds anytime during the summer.
What do I need to know and do as crew?

The crew's main purpose is to run the 2nd smaller sail (jib sail) and use their weight to help keep the boat level.

If you have never sailed, the skipper can provide instructions on what to do, when to move, and where to be.

The best part of being the crew is hooking up to the trapeze and hanging out on the wire over the edge of the boat when the boat is "flying a hull".

The crew's weight helps level the boat and allows the skipper to pull the main sheet in tight to pick up speed.

The crew can also help look for and spot other boats to help the skipper.

A Hobie 16 is very simple for new crew.

The larger boats, Hobie 18 and 20, have more for the crew to do.

The ideal combined weight of the crew and skipper is 285 pounds for a H16; less and you need to tie weights to your boat (not to the crew).

If you have more weight, just hope for good wind.

The minimum weight is needed to be able to right the boat (if it tips over).
What does the skipper do?

The skipper just sits there and barks commands at the crew.

Just kidding.

The skipper is responsible for steering the boat, controlling and fine tuning the main sail, deciding went to turn (tack), optimizing boat speed and boat direction to get from point A to point B the quickest, watching out for other boats, and giving instructions to the crew.

A more experienced crew can help with some of these tasks.

The skipper generally pays the registration fee for both the skipper and crew for a regatta (which typically includes meals for the skipper and crew).
How can I learn to sail?

The best way to learn is to crew for someone.

Then practice taking the tiller.

There are also some books and internet sites to learn more.

But the main way, as with anything, is to just hop on and practice.

Once you get the hang of it, I suggest you give racing a try.

There is a special starting sequence at Regattas for new / novice sailors.

You can really improve your skills by sailing next to or behind someone and watching what they do.

And then you can ask the sailors on other boats questions when they get to shore.

Hobie sailors love to share advice with beginners (until you are seen as a serious A fleet competitor).

The more boats, the more fun it is to sail.
Do you ever tip over?

(What?

I can't seem to hear you.

We must have a bad connection.)

Actually, yes, you can tip over.

That's part of the fun on a hot summer day.

It typically happens on a windy day when you are trying to push the envelope and fly a hull.

Although when you are racing, you don't want to tip over; it tends to really slow you down.

With experience it is possible to keep the boat down;

you can control the boat by a) letting the main (big) and jib (small) sail out.

The wind has less to push against.

b) moving your weight to the high side of the boat.

If you can get out on the wire, this is even better.

And

c) steering closer into the direction of the wind; rather than perpendicular to it.
Am I too old or young?

Sailing is for nearly all ages.

There are children sailing with parents, married and single couples sailing together, friends sailing with friends, students sailing together, experienced sailors sailing with strangers who where walking on the beach, and seniors sailing and enjoying retirement.

It helps if you are not afraid of water (either being in it, on it, or having it all over you.), enjoy the sun and wind, are willing to meet new people, and are willing to learn.

Of course having a boat helps, but that can be found later.
What is a Regatta?

A regatta is an event that brings together many sailors and crew from around the region to sail and race against each other.

Regattas are typically held on a weekend.

Friday is for traveling, registration, and socializing.

Races start Saturday morning and continue Saturday afternoon with a break for lunch on shore.

There is an evening dinner and fun.

Races continue on Sunday morning.

Lunch and awards are provided Sunday afternoon.

Then everyone says goodbye and drives home and looks forward to the next regatta.

There is typically a Regatta registration fee covers for the weekend meals and refreshments for skipper and crew, a tee-shirt or other giveaway, and the cost of trophies.

See the Division 7 sailing schedule on the home page.
Why race?

Racing is a way to improve and test your sailing skills.

You can start out in the beginner "C" fleet, move up to "B", and then sail against the best in "A" fleet.

When racing at Hobie class regattas, you typically compete against boats of the same design (to differentiate between the sailors' skills instead of how much money you can sink into a boat.)

Racing combines the following elements:
Strategy – how to position your boat at the start line to get a good start, what direction to sail relative to the wind direction (too close of an angle and you slow down, too much of an angle and you have to sail farther), when to tack (turn), how to cover an opponent to block their wind, when to break from an opponent to get fresh air, what side of the lake has better wind, how will permanent wind shifts affect you.
Skill & Knowledge – knowing how to get a good start, how to adjust the sail to get the most speed (the sail acts like an airplane wing), how to keep from tipping over, how to read the ripples on the water to see oncoming wind shifts and gusts, how to take advantage of shifts in the wind, how to best level the boat to minimize drag from the hulls in the water, how to round the mark without slowing down, who has the right-of-way (to avoid crashes), knowing what to do when someone yells "STARBOARD" or know when to yell it yourself, know how to tack (turn) without getting stuck pointing directly toward the wind, how to nose out your competitor when crossing the finish line.
Social – knowing how to avoid running into other boats, how to avoid throwing your skipper (or crew) overboard; (you can't finish the race without everyone you started with.), how to find a new skipper, how to be the first one back on shore in order to tap the keg. There is no award money involved in winning a race or regatta. It is purely for the enjoyment, competitive spirit, and for bragging rights. Winning boats compete for points at regattas in order to win the overall Division 7 season racing title.
What does a race consist of?

A race involves going around several marks (buoys) to cross the finish line first.

There is a start line, upwind A mark, downwind B and C marks, and a finish line.

The boats cross the start line at the starting signal, race around A mark, then around the other marks (depends on which race sequence the race committee indicates) one or more times and then to the finish line.

If enough races have been run, your worst race is thrown out from your score.

The rankings after several races determine the Regatta winners and places of the other racers.
Who is Fleet 84?

Fleet 84 is a local not-for-profit sailing club located in central Iowa that is a member of the National Hobie Class Association (NAHCA) in Division 7 which covers the north central US.

Fleet 84's role is to promote Hobie catamaran sailing in central Iowa and to support Hobie regattas in the Division.

Anyone is welcome to join.

Fleet 84 hosts an annual Regatta at Saylorville Lake typically in August of each year.

Due to our location in Divison 7, Fleet 84 frequently hosts the Division 7 Championship Regatta.
How do I join?

Contact any of the Fleet 84 members and indicate that you are interested.

Contact the Treasurer@fleet84.com to sign up as a member.

We have annual dues for active members ($25 per boat for 2003) to help pay for the expenses of the club including periodic social events.

There are no dues for student members.

New sailors are very welcome!
What kind of boat should I get?

Of course a Hobie.

The most popular size is the "Hobie 16" (16ft long).

It is relatively easy to learn, can be sailed up onto the beach, is designed for two people (but can be sailed with one or up to three or four – four is a little crowded.), and can be trailered easily behind a car.

Most people who race have a Hobie 16.

There are several other sizes; the Hobie 20 is also getting popular, but it is a handful and not recommended for beginners.

Talk with Jim Sohn at the Hobie Dealer in

Des Moines

or another Hobie sailor for more information about other boats.
How much do they cost?

Contact Jim Sohn for prices on new and used boats.

If you are just starting to sail, consider a used boat.

You can find a used boat, depending on the condition, typically between $1500 and $3000.

Some less, some more.

And a good used one does not depreciate much, so if you take care of it and have it for a couple of years, you may be able to sell if for not much less than for what you bought it.
What should I look for when I buy a Hobie?

Well the good news is you don't have to worry about an engine or rust.

Look for a boat that has no holes in the hulls; especially in the bottom.

These will tend to slow you down.

Ensure that the four upright posts connecting the hulls to the tramp are solid.

Check the mast and Trapeze wires; make sure they are in good condition.

Check the trailer.

Check the tramp.

Check the travelers to ensure they slide easily.

Check that the sails are in good condition (sails stretch overtime and go out of shape, for casual day sailing or "C" fleet racing this is not a problem.

For serious racing, you may eventually want a newer set of sails.)

If you plan to race (which I encourage you to try it ), the boats made after 1985 have lighter hulls, which is a good thing.
---
Last Update December 15, 2002. Send comments, new questions, or answers for this web page to webmaster@fleet84.com